Home
---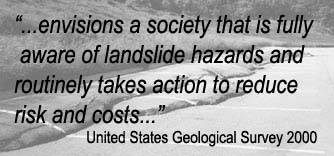 Welcome
Most people don't think of Greater Cincinnati as an area prone to landsliding and geological hazards, but this is a mis-perception.  As studies and history have shown, the Greater Cincinnati area has a topography that presents a hazard to property owners, business enterprises, and the public. Various researchers, including the United States Geological Survey (USGS), students at the University of Cincinnati, and others have studied our environment and are just starting to unravel the complex geologic history of the area.
The tristate region has an unusual amount of what appears to be virgin hillside or "green space" with a view of the Ohio River valley. This appears to be prime real estate.  However, the hillsides of Greater Cincinnati are very difficult to develop or sustain housing on due to landsliding without substantial capital outlay for retaining walls and drilled piers.  A majority of the surrounding hillsides are composed of loose clay and are unstable or marginally stable.  Extremely slow landsliding plagues the tri-state region, claiming housing and infrastructure on a regular basis, and causing financial havoc for individuals, financial institutions, governmental agencies, and professionals. Hamilton County, Ohio has some of the highest cost per capita in the United States for landslide damages (according to USGS). By the nature of the location, on a hill slope, or at the top of a hill, or base, Greater Cincinnati view property has a high potential for landsliding.  You can find much more about our landscape within our site.
Some of the science relating to landsliding in Greater Cincinnati is very well understood amongst geologist across the country but locally, the information is poorly disseminated or not in a useable format for the public and professionals to understand.  Eventhough the geologist who study geo hazards understand this problem and it has been well documented we continue to site new buildings, houses, & roadways on or adjacent to old landslide features without understanding the risk.  Additionally, we (scientist) are just starting to unravel the complex glacial history of the area which forms most of the layer that we live on and use for natural resources.  Understanding this complex geologic history and being aware of our environment in which we live will help us to use our landscape in such a way that future generations will reap the same benefits that we enjoy. 
---
Listen to a short audio by Dr. Barry Maynard, Professor of Geology at the University of Cincinnati who was interviewed on radio station WVXU (FM 91.7).  The station aired the interview on April 12th, 2008 at the height of the rainy season when interest peaks in our landslide prone landscape.
Click to hear Dr. Maynard on FM91.7
---
An article from our former local newspaper:
Hamilton County leads nation in per capita repair costs
Shelly Whitehead, Post staff reporter

U.S. Geological Survey data indicates that more money is spent per capita to repair landslide damage in Hamilton County than any other place in the nation. But most of those slides rarely make headlines.  Instead, Cincinnati geologist Tim Agnello said, the damage often occurs gradually from slower-moving landslides that affect a handful of properties at a time.  For instance, one home's foundation along an unstable slope may crack this year; the backyard deck may separate from a neighboring home the following year.Often, property owners remain unaware that sliding land is at the root of their problems, so they repair damages as they occur without realizing that their difficulties will only worsen as the land beneath their homes continues to move. But, sometimes damage is both relatively sudden and dramatic. Montague Road (northen Kentucky), for instance, which runs along the northern border of the Views site, was closed for five months eight years ago after a landslide covered the road with dirt and debris and triggered lawsuits between property owners and the city of Park Hills, Ky.  And landslides regularly close sections of Ky. 8 after a sudden movement of the steep slopes along the riverside route washes mud and trees onto the highway.In Mount Adams, a massive system of tunnels, pillars and underground cables stands as testament to just how much damage can occur when the land beneath an unsecured construction-laden slope starts to slide. The $30 million Mount Adams stabilization project was built after construction on Interstate 471 in 1973 sliced into the "toe" of the hill and triggered a landslide that cracked foundations all along Baum Street, ultimately wiping out 16 homes.  Agnello said other less dramatic landslide areas are scattered across Cincinnati (Greater), including along Maryland Avenue in Price Hill where slides forced closure of the road's upper portion in the mid-1980s.
Copyright 2007, The Cincinnati Post, used with permission.
---
Mission & Vision Statement
Our mission is to increase awareness and understanding amongst the public and professionals of the landsliding and geo-hazards of the tri-state Greater Cincinnati region of northern Kentucky, southern Ohio, and southeastern Indiana.  Additionally our web site will serve as a repository for information, photographs, and research on geo hazards in the tri-state area.
Services
Our site serves as a repository for basic information on geo hazards.  Additionally we offer geologic consulting services and geo hazard workshops.  Please read our bios and browse our site if you are interested in our consulting services or workshops.  We can be reached through the contact page.  Please bookmark and check back frequently to our site as it will be evolving and content will be changing as time goes on.